The best gifts for cyclists!
"Saddle up the bikes, we're riding into the mountains!" – This or something similar could be the starting signal for the next bike tour. Such a fanatic cyclist will certainly be in your social environment. If you are invited to a special occasion, you can't just show up without a present. Even if you are not a bike fan, you don't have to worry about being empty-handed. After all, our job is to plan your route through the stores and the Internet so that you can finally ring the doorbell of the cyclist with the best gifts for cyclists.
Useful gifts for cyclists
"Those who love their bikes push them" – You know this saying, don't you? A passionate cyclist must be equipped for every situation accordingly. Useful SoS gifts would be in this case, for example, patch kit for the tires, a mini tool or a space-saving bicycle pump to take along. This way, small damages to the bike can be repaired on the spot. Other gifts for cyclist that are useful: Bells, lights, bike spoke clips, bike baskets and bags.
Whether it's a keychain, pizza cutter or bottle opener in the shape of a bike; cup, glass, drinking bottle, lunch box, barbecue apron or cutting board with bike motifs or slogans… If you surf the Internet with your eyes open or walk through various stores, you'll find the funniest things.  Kids, for example, will love 3-D bike helmets with shark fins, dragon spikes or animal ears.
Clothing gifts for cyclists
Bicycle dress? At least one of them should have every enthusiastic cyclist at home. But it wouldn't hurt to have another one. Any piece of clothing that a cyclist needs for the sport, you can find like sand by the sea. If you don't want to give something boring, but something special, then go for a statement shirt with a funny saying, colorful socks, bike caps or an eye-catching tube scarf. Or: Have an individualized jersey made for a road cyclist by the manufacturer of your choice. 
Gifts for racing cyclists
If a normal bike is too slow for you and you like higher speeds, you usually go for a road bike. Due to the lightweight construction and shape, these bikes offer the best conditions to really step on the gas and make the streets unsafe. Below you will find what we think are the best and most popular gifts for road cyclists.
Gifts for cyclists - Everything you should know!
If you haven't made a connection in the herd of bike fans yet, you don't have to feel bad. To each his own. What is not, can still become. But as the occasion for which you need a suitable gift for cyclists draws ever closer, you don't have time to wait for it. We want to make sure that you don't just buy anything in your panic and possibly waste your money. That's why we've listed a few important points. Follow them and you will find the right gift for cyclists.
Go through the world with open eyes when you are in the (online) sports store or click from website to website. You'll be able to find something suitable for a cyclist.

The quality of your gift is the first priority – but it should still be individual and original.

"What occasion is actually coming up? How close am I to the person I want to give a gift to? How much can / do I want to invest in a gift? How passionate is the person to be gifted? What might the cyclist like? What does he not have yet? What might he need?" – Questions upon questions. Clearly, you need to answer these in advance.

You know other cyclists? Great. Because they might be able to help you out. Just ask them.

Having hidden talents in baking, painting, crafting, sewing or handicrafts is never wrong. Use your skills and create your own personal souvenir for the cyclist.
1 How to find the right gift for cyclists
Finding something that pleases is often easier said than done. Are you wondering whether a cash injection or a sports store voucher would be the perfect solution to your gift problem? Then I'll tell you something: while useful, neither is personal, original or individual. In order to knock a cyclist off his saddle with astonishment, it takes a bit more than vouchers. We'll explain to you in a moment how you can find your gift most easily.
You should always think about the price of your present first. After all, good advice is expensive. But that doesn't mean that you have to plunge into expenses. It's best to adjust your budget to the occasion. If you need a Christmas, Easter or birthday gift, then keep a little more money ready. But you don't have to spend a lot of money on little things that you can give to a loved one in between. What's never wrong with shopping: compare prices and take advantage of discount offers and special prices.
Even if they're all on a bike – you can't lump all cyclists together. After all, there are big differences between them. Answer the following questions: "Is person XY an extreme road cyclist, downhiller, mountain biker, BMX rider, etc.? Or does the cyclist just like to ride his vehicle in the fresh air every now and then?"
Whether the cyclist is young or old, of course, you can not ignore. Some gifts are more suitable for children and teenagers, while others are better suited for adults. Or do you think that a 40-year-old would mount pink unicorn spoke clips on his bike?
2 Gifts for cyclists - The best ideas!
Cyclist energy dispenser
Food is fuel – every athlete should know that. So you can put a smile on a cyclist's face if you give him something tasty. Carbohydrates in the form of pasta with bicycle motifs would be perfect. Powerbars, muesli and protein bars also provide quick energy on the road. Power gels, squeezies, wine gums, nuts and dried fruit are also suitable for taking along. Of course, there are also chocolates that look like bicycles or bicycle accessories. The best thing to do is to go to the confectionery shop you trust. If the bike lover is not so keen on sweets, then let him have muscle food. He certainly won't say "no" to protein-rich foods such as dried meat (salami, bacon, beef jerky) or exquisite cheese.
Gifts for cycoholics
Who says that an athlete can't enjoy a little alcoholic beverage now and then? Even a cyclist likes to drink a shandy or a beer for refreshment after a tour. Ice-cold, it tastes especially good. If you want to give away some beer as a gift, make sure it's exclusive. Buy something that can't be found in the supermarket. For anti-cycoholics, non-alcoholic beer would be the alternative. Wine or schnapps are of course also suitable as a gift for a cyclist. Again: Not 0815 but special!
DIY gifts for bikers
Attention do-it-yourselfers and creative minds: Now it's your turn! You have so many possibilities to get active yourself. Here are a few inspirations: Want to give a personalized decor piece as a gift for a biker, get a discarded wheel. Print out some nice photos and funny sayings and put them on the wheel. Tada – the piece of jewelry is ready. If you're good with your hands, you can surprise the recipient with a homemade wall mount for his or her bike. You can also make a lot of things with bicycle parts: Whether it's a small plug-in lamp or an expansive floor lamp – all you need is a socket for the light source and your imagination.
Homemade sweet
Cakes, muffins, cookies and the like are also welcome among cyclists. If the baked goods come from your oven and you baked them with love, all the better. Beautifully decorated with fondant, chocolate and colorful icing, sprinkles, marzipan, edible paper and food coloring, the whole thing not only tastes but also looks great. With a little patience and fine motor skills, you'll be able to create a few bicycle motifs. If not, then off to the pastry chef. He likes to earn his daily bread with personalized baked goods.
Tech stuff
The cyclist you want to give a gift to is a music fan? But listening to loud music or even talking on the phone while riding on the road is dangerous, right? Maybe. But not with bone-sound headphones. With them in your ears, you can hear everything that's going on all around you. Another cool technology idea is a bike computer: For someone who really wants to know how far and how fast they're going while cycling, such a speedometer would be the ideal companion. You could also surprise an indoor athlete with a virtual reality roller trainer. This way, he can ride comfortably in his living room – even online together with other cyclists.
Extravagant gimmicks
Not every cyclist wants to be 0815. If you want to help the recipient to pimp his bike, then present him with something special and eye-catching. How about a personalized saddle cover, a thermal water bottle with individual engraving or photo, a name sticker, a so-called Velosock (bike cover) or a GIF rim light? What else could he perfectly mount on his vehicle: a navigation system, a Bluetooth speaker, colorful flashing lights, a holder for his smartphone or a bicycle alarm system. Something fun, for example, are bike balls. These colorful glow-in-the-dark things made of silicone are great for anyone riding in the dark. Placed under the bike saddle, they can dangle merrily in front of you.
Pure relaxation
Of course, you don't have to give away a wellness vacation in a 5-star hotel to provide relaxation for an athlete. Simple remedies can also help against sore muscles, stress and overstrain symptoms: Bath salts; sports gels with a cooling or warming effect; a massage device; a fascia roller or high-quality nutritional supplements such as magnesium or omega-3.
Decoration
For a cyclist, there is hardly a more stylish way to season his food than with a salt or pepper shaker in a bicycle look. Of course, there are other decorative items related to cycling: photo canvases, wall tattoos, calendars to display or hang, seat cushions, napkins, flower pots, etc.
3 Gifts for bikers should come from the heart!
In principle, it doesn't matter what you give the cyclist in the end – the most important thing is that your gift comes from the heart. If you have made a good decision when choosing, the recipient will know that you have really thought about the whole thing beforehand. 
4 How much should gifts for cyclists cost?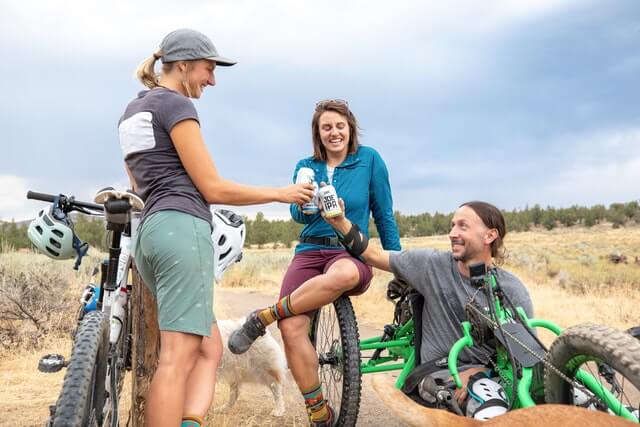 The price range for gifts for cyclists go from minimum to maximum. It's up to you whether you want to get away with it cheaply or play the benefactor of the service. We don't want to tell you any more about it. But what you have to remember is that giving away cheap junk has little to do with appreciation. It's better to invest in a high-quality product that costs a bit more, but is of good quality.
How can you tell a happy cyclist? By the flies between his teeth. But the smile on the face of the recipient should not be a remnant of his bike ride, but solely due to your gift. To find the right gift for cyclists, you need to consider a few things. With us at your side, your search should not be as exhausting as the Tour de France.