The best gifts for swimmers / swimming gifts!
When a swimmer has something to celebrate, then in addition to guests, food and drink, good humour and joy, gifts are of course a must. Finding the latter, however, can be a challenge once you have started your search – after all, the choice is huge. So that you don't sink hopelessly in the sea of gifts, but can keep your head above water, we have prepared a little guide for you and present the best gifts for swimmers in this article!
Useful gifts for swimmers
What would a swimmer do without swimming shorts, swimming costume, swimming cap, swimming goggles, nose clip, earplugs and towel? Probably not go into the water. Ambitious swimmers should always be well equipped. So if you want to give something that has a use, go for the items just mentioned.
Take a breath – not only when swimming, but also when laughing. Your favourite athlete is sure to enjoy a funny gift. For example, you can buy swimming caps, suits and shorts with funny motifs and sayings. Statement notebooks and calendars in which swimming sessions can be documented are also popular.
Clothing gifts for swimmers
Of course, swimmers are not in the water all the time. In addition to the classic swimming outfit, "normal" items of clothing also make excellent gifts. Who says you can't give a swimmer a cool statement T-shirt or hoodie?
Originality – this is a quality that should always be present in gifts that really make a difference. The best thing to get your swimming fan is a bathrobe or towel with his or her name or insignia imprinted on it.
Personalised gifts for swimmers
If something ordinary seems too boring, ask the manufacturer of a great product if it would be possible to personalise your gift. Towels, swimming trunks or swimming costumes are perfect for this. Drinking bottles, coffee cups and lunch boxes can also be personalised.
Gifts for competitive swimmers
Competitors have to invest a lot of time in their training to become really good. They put a lot of ambition into this sport. Gifts help to brighten up the life of a competitor. A swimming backpack is a must-have. Not only does it hold a lot of equipment and provisions for the road – it also has extra integrated wet compartments for swimwear.
"Can we do it? Yes, we can do it!" – that's called team spirit. The best gift for members of a team is something that everyone likes. Maybe a bathrobe with the team logo?
Swimming doesn't have to be old-fashioned – useful gadgets make sure of that. Special aqua gloves, for example, are the latest trend. Like a frog, the wearer then has webbed fingers between his hands. A so-called pull buoy can also support swim training. What not everyone has either: A waterproof smartwatch or an MP3 player with headphones that can be used to listen to motivating music underwater.
Gifts for swimmers - Everything you should know
Swimmers are very special people. They often can't tell you themselves why they love this sport so much. When it comes to buying gifts, it doesn't matter. The most important thing is that at the end of the day you find something that puts a smile on your swimmer friend's face..
Wanted? Found it. Find the perfect swimmer's gift at your local retailer or online.
Buy something that is not original? Bad idea. The less basic your present is, the better off you'll be in the end.

You need to think about a buying strategy. The best thing to do is to ask yourself in advance: "How much money should my gift cost? Is it for a hobby swimmer or a competitive swimmer? How old is the person you are giving the gift to? What is the occasion for which the gift is needed?"
Desperate because you can't think of anything? Then let others who know more about swimming help you.

Give with class! Don't buy anything that comes across as cheap!
1 How to find the right gift for swimmers
If you've ever been completely lost in a huge store, you don't want to experience this scenario a second time, do you? After all, nothing is more annoying than investing a lot of time in the search for a gift and not finding it in the end. To put an end to this, here are a few tips. Use the following points as a guide:
Of course, you also need to think about the price of the gift. How much should it cost as a minimum? What is the maximum amount you can and want to spend on it? Under 10 or over 100 euros? If you are a savings master, we have a hot tip for you: you can often find special offers in many brochures or on the Internet.
1.2 Hobby or competition swimmer
How much effort does the swimmer who is to receive the gift put into his favourite sport? Is he only a hobbyist in the water or does he do it as a highly professional competitor? Some gifts only pay off if the water enthusiast really spends a lot of time swimming.
Is the swimmer young or a little older? You should know this – after all, not every gift is suitable for every age. For example, what would a pensioner want with a swimsuit that was actually made for a 10-year-old?
For what occasion did the swimmer invite you? Is it his birthday? Is it a Christmas or Easter party? Or something completely different? If it is a big and important occasion, the swimming gift must be given accordingly.
2 The best gift ideas for swimmers!
Training supporter
Ambitious swimmers don't just splash around happily, but try to constantly hone their technique in training. In this respect, there are really many useful supporters that would be suitable as potential gifts. For example, short fins, swimming gloves, sports snorkels or wetsuits are great ideas. Someone who wants to improve their performance can really do something with these products.
Swimmer's catering
Swimming demands a lot of energy from the body. To help your favourite athlete regain their strength, give them a gift to reward themselves with after their workout. How about sweets in chocolate or wine gum form? Fine nut mixes, protein bars or sports gels are also perfect snacks to take home.
Jewellery for swimmers
When swimming itself, wearing jewellery can hinder hydrodynamics. Outside the pool, however, swimmers also like to wear accessories. You can find beautiful necklaces, bracelets, rings and earrings with nautical motifs almost everywhere – for both men and women.
Decoration for swimmers
The home of a swimmer must logically be equipped with decoration that reminds us of their absolute favourite sport. For example, a swimmer's screwman, macramé seahorses to hang up, wall stickers and posters with matching motifs and sayings, bed linen or upholstery covers all make a visual impact. There are also really cool stickers for the car. By the way, there are also many different types of keychain decorations.
Extravagant
Now comes something special for the ladies (or also for the gentlemen): mermaid fins. That's right. You can actually buy this novelty in a wide variety of colours and shapes. If you liked the film "Ariel", you will love these fins.
Relaxation gifts
After a tiring day in the pool, even the most trained body needs a regeneration phase. Special sports creams that cool or warm as well as a massage gun can bring tense muscles back into shape. Soothing bath salts, which are added to the hot tub for a relaxing bath, would be another option. Die-hard athletes are also fans of nutritional supplements. High-quality magnesium and omega-3 supplements are a must.
Books for swimmers
Not in the water, but at home on the couch, swimmers like to read a good book every now and then. Reading as a gift is always possible – you just have to know what kind you like. Does the recipient like horror stories, fairy tales, fantasy or romance novels? In a pinch, get a textbook that explains various swimming techniques in great detail.
Liquid – but not water
A swimmer who has been in the pool all day has probably had just enough water. If he still wants liquid, you can surprise him with something alcoholic – but only if he actually drinks it. A variety of wines, champagne or high-proof drinks would be suitable. You should get these in a high-quality version from your trusted dealer. If the shimmer wants non-alcoholic drinks, you can also use special 0-percent variants.
Mega gifts
Cash is king? No way! Envelopes are not welcome. The whole thing goes much more elegantly if you team up with a few other guests. Why not finance a gift together that costs a lot of money? Maybe the swimmer would like to practise his sport in another destination? Holiday trips to the sea or to a nice thermal spa are sure to go down well.
Cooking swimmers
Nowhere is it written that swimmers may only demonstrate their skills in the pool. If you are also an ace in the kitchen, your talent should be encouraged. If your favourite swimmer loves to cook, then give him or her an aromatic spice set, an ultra-sharp Damascus knife or a matching cookbook with recipes for athletes. A cook's apron or a cook's glove with a swimmer's motif would also be a good idea.
Swimmer accessories
If your loved one attaches great importance to his or her appearance in everyday life, you won't make a mistake with new accessories as a gift. Retailers offer all kinds of accessories: handbags, wallets, watches, belts, ties, cufflinks, scarves, neckerchiefs, caps, etc. Many products can also be customised. Knowing what best suits the swimmer's style would be an advantage, though.
3 The swimmer's gift should come from the heart!
A gift is all the more valuable if it is given with love – you absolutely have to remember that. Therefore, I strongly advise you not to make blind purchases according to the motto "the main thing is done", but to really think about the following: "What can I really make the swimmer happy with?
4 How much should gifts for swimmers cost?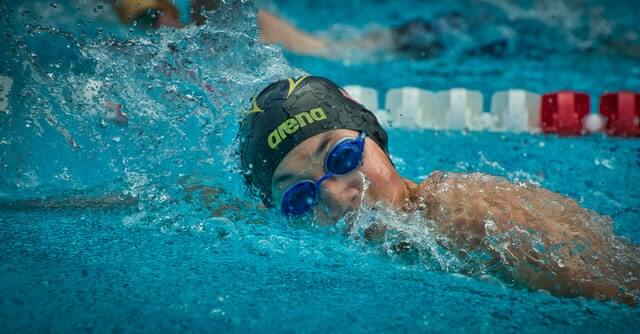 Many things on the market are not exactly cheap – but at the same time, not everything is extremely expensive. Logically, you have to decide for yourself how much money you want to invest in your gift. You should spend more if it's for a special occasion like a birthday or Christmas.
Don't wait. Cold water doesn't get much warmer when you jump later. So start looking for the best gift in the world right now. Once you've memorised our bathing rules, or gift rules, you should be safe – whether you're in a local shop or online. Once you've found what you're looking for, nothing can get in the way of the occasion. I can already guarantee that the swimmer will be happy.