The best gifts for hikers & hiking lovers!
"The mountain is calling!" – that's the motto of real outdoor fans and nature lovers. They love to spend every free minute in nature. But on special occasions (birthday, Christmas, Easter) they are usually found celebrating. Are you also invited to such a person and therefore looking for a nice gift for a hiker? Then you are exactly right with us, 365 Presents. We are happy to advise you.
What you can use to put a smile on the face of your favorite hiking rat is the card game gofindit. With this, no break on the alpine meadow will be boring. Also funny: a small metal figure that looks like a hiker. Funny keychains are also always well received. Below you will find the funniest gifts for hikers:
Inveterate hikers always have everything with them when they are on the road. That's why they are also happy about useful gifts such as a thermal water bottle or lunch box for their provisions. Multifunctional scarves that can be worn as a headscarf, headband, scarf or on the arm are also very popular.
A hiking enthusiast prefers to be on the mountain with light luggage. After all, unnecessary ballast is annoying when you're sporting. If your hiking friend does not yet have a special backpack for his tours, this would be the perfect gift idea. Models in various shapes, colors and designs are fortunately enough.
Gifts for mountain hikers
Nothing can stop someone who jumps from one mountain to the next. After all, mountain air sets you free. You could give a summit block to a passionate summit climber. Here he can write down every summit he has already climbed. If you want to take short breathers on the way to the top, you also need something comfortable to sit on. For such cases, there is an ultra-light seat cushion that fits in any backpack.
Your favorite person does not want to be one of the classic 0815 hikers? Then give him something that is unique. As a gift idea is suitable here a walking stick made of wood. With it, you can pave his way through faster on well-traveled hiking trails.
Funny t-shirts for hikers
Statement t-shirts are a real eye-catcher – especially if they have cool motifs and sayings printed on them that fit the theme of hiking. If your mountain lover is not yet in possession of such a garment, you need to change that immediately. Below you will find what we consider to be the funniest t-shirts for hikers:
Old-fashioned? No thanks. Even hikers hike with the ravages of time. Give away unique gadgets like heated thermal socks, a hat with integrated headlamp or an electronic bite healer for annoying mosquito bites. Expensive but very cool would also be an outdoor camera (eg a Gopro).
Personalized gifts for hikers
You want to give something that matches the personality of the hiker? Then a Zippo, a pocket knife, a Leatherman or a hip flask with engraved name are just right. By the way, a hat with an individual lettering embroidered on it looks quite original.
Gifts for hikers - Everything you should know!
Yes, it's true. Finding the right gift for an outdoor fan is not always easy. Either he already owns everything he needs in terms of hiking equipment, or he has very specific ideas when it comes to practicing his favorite sport. But that's no reason to despair. Here is some helpful advice:
"The journey is the destination." – The first step you should take is the one into the nearest (online) store. Take your time to look around and let the diverse assortment work its magic on you.


Quantity is less important than quality. Gifts for hikers should be durable, functional and unique.

How do you make your gift search easier? By asking yourself the following questions and answering them: "What's the occasion? How thick is my wallet? How old is the wanderer? Does he have any special wants, needs or preferences? Is there anything the outdoor enthusiast might not already have?"

Stumped? Then get tips, tricks, opinions and advice from people who know the person you're giving the gift to better or who like to hike themselves.
1 Here's how to find the perfect hiker gift
You're thinking, "Oh, if only buying gifts were as relaxing as taking a walk through nature." We say, "Who says gift hunting always has to be stressful? There's another way!" After all, if you know exactly what you're doing, you'll be able to find the right gift for a hiker in no time. Feel free to use our route planner to help you:
Quick fact check in your wallet, "How much money do I have available?" You should always ask yourself this before overzealously rushing to the nearest store. After all, you need to know the maximum amount you want to or can invest in the gift for the hiker. By the way, price comparisons on the Internet will help you to find what you are looking for more quickly. If you want to save money, don't wait until there's a special promotion somewhere.
There are many things you can do in nature: Hiking, climbing, walking, tramping or running. Which sport does your favorite person like the most? Only when you know that, you can specifically look for a suitable gift for an outdoor fan. For example, a mountain runner needs completely different equipment than a mountain climber.
In addition, you should ask yourself about the age of the hiker. Is he still a child, a teenager, an adult or already a pensioner? Knowing the age group of the person you are giving the gift to is an advantage. After all, you can then adapt the respective gift to this.
Maybe your hiking buddy needs something specific right now. Maybe a new pair of shoes, functional underwear, socks, a backpack, carabiners or climbing ropes? If you know what he'd like, there's nothing stopping you from looking for just that.
2 The best gift ideas for hikers
Hiking provisions
Hiking can be quite strenuous and energy-sapping. In order for your favorite person to be able to fortify themselves with food during breaks, they need the right provisions. So give a small food basket as a gift: pack what tastes delicious and is suitable for transport: canned food, trail mix, dried fruit, granola and protein bars, fruit puree, dried meats such as salami, bacon and snack sausages or hard cheese.
Hiking gadgets
When the weather is rainy, you don't necessarily have to stay home. For such cases, there are hand-free umbrellas that can be easily mounted on the body. Other gadgets that make hiking more bearable include a portable espresso machine, a first aid survival kit, or a self-inflating sleeping pad that can easily be stowed in your backpack. 
Accessories for hikers
No one said you can't be chic while hiking, right? Therefore, you are welcome to give your mountain friend a fashionable gift. You can find many beautiful necklaces, bracelets and earrings in stores that match hiking. Perhaps a new smartwatch would also be an idea. Special hiking and trekking watches can measure a lot of things, including altitude.
Decorative
Even though a nature lover prefers to be outdoors rather than at home, that doesn't mean they don't value home decor. If your hiking friend is into decorative stuff, you should definitely give him a wall tattoo with "The mountain is calling…" or with "Love is like hiking…". What he is also still certainly happy, is a screw man, which hikes or climbs. Optical eye-catchers are beautifully decorated deer antlers, bed linen in alpine hut style or crocheted upholstery covers.
Everything for the hut hike
Your favorite hiker is not only a few hours, but several days in nature on the road? Then he needs some things that will ensure his survival. Don't miss: a comfortable hut sleeping bag – maybe even with thermal function, in case it's cold outside; a robust compass; a small solar charger; a power bank for the smartphone or a microfiber towel.
Cash gifts and vouchers
If you're really stuck when it comes to gift-finding, there are still two emergency options: Cash gifts and gift certificates. But don't just put them in a stinkin' ordinary envelope. Instead, use a special pop-up card with a 3D look. You can find many models in stores that are sure to please your nature lover.
3 The gift should come from the heart!
If you're buying a gift for a birthday, wedding, Christmas, Easter or any other occasion, it should always be something special. After all, the recipient should be happy about the surprise. An important role plays not only the gift, but also the presenter, that is, you. Only if you give with heart, the whole is only valuable.
4 How much should gifts for hikers cost?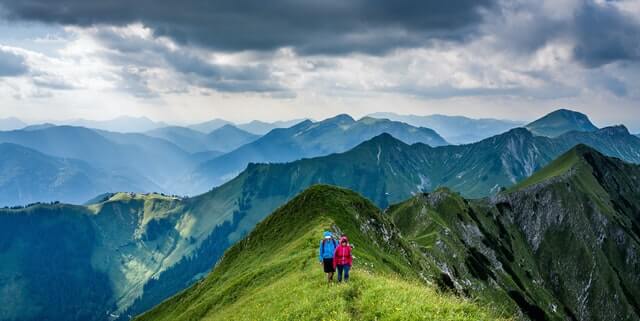 You are not a cheapskate? Then don't let yourself be lumpen and gladly take a little more money for the perfect hiker gift in hand. Provided that it is a special occasion. Especially here, larger gifts are desirable. After all, if you only need the gift to say "Thank you!" to a loved one, there's no need to slaughter your piggy bank.
In the wild, you can quickly get lost – in the big world of gifts, too, by the way. After all, there are so many products and offers that could potentially come into question. It can happen that you can hardly see the forest for the trees. So that this case does not occur, there is us. We are your compass and guide you with our tips through the stores. The best gift in the world will soon belong to you or your favorite person.