The best gifts for photographers / photography gifts!
Cheese – When friends or family gather for a photo together, a photographer will often ask you to say this word. The pronunciation of this phrase is meant to guarantee that you look friendly for the photo. Accordingly, it's only fair that we also put a smile on our photographers' faces with a perfect gift. Of course, this is easier said than done and for this reason, we at 365 Presents have identified the best gifts for photographers and presented them clearly for you. Whether as a small thank you, birthday gift or Christmas present, here you are guaranteed to find the perfect gift for photographers!
Useful photography gifts are especially popular. They can be incorporated into the daily workflow and make the life of any photographer easier. Here you can find a selection of useful gifts for photographers.
Books gifts for photographers
Whether the gift is for an amateur photographer or a professional photographer, every photographer can improve in certain areas and learn something new. Here you will find suitable books gifts for amateur photographers.
Fun gifts for photographers
Most photographers love their profession and just can't get enough of it, even in their personal lives. Meanwhile, there are many different funny gift ideas for photographers. For example, how about a lens coffee mug?
Gadget gifts for photographers
What would a photographer be without cool gadgets? In our selection, you're sure to find a gadget that will make everyday photography a little more colorful for photographers.
Clothing for photographers
Photographers are on the road a lot and want to represent their profession through their clothing. Below you will find a selection of clothing designed specifically for photographers and guaranteed to please.
Outdoor gifts for photography lovers
Waiting hours outdoors for the right moment to take a photo isn't for everyone. But with these outdoor gift ideas, the wait will definitely be easier.
Backpacks and bags for photographers
Besides a camera and some lenses, a backpack or a stylish bag is probably one of the most important pieces of equipment for photographers. Below you will find a selection of the best backpacks and bags for photographers.
Tripods for photographers
In situations where there is little light and the camera needs more exposure time, a tripod is urgently needed. We have picked out the best tripods for photographers for you:
Camera straps for photography lovers
Whether made of high-quality leather, wool or polyester, a new camera strap can quickly put a smile on the face of an avid photographer. Here you can find camera straps of various designs and materials.
Gifts for photographers - Everything you should know!
If you're a layman, i.e. a non-photographer, and you've ever found yourself lost in the vast world of photography gifts, by all means don't despair: it's the same for many. But we are sure that with our help you will find the right present.
Gifts designed especially for photographers can be found in many different online stores. You can also find them at various local retailers. In addition, you can get inspired via various social media apps such as Facebook, Instagram, Pinterest & TikTok. You can even grab a bargain or two at flea markets!

To help you find a nice present, you'll first need to think about the following: For which gift occasion do you want to give something and how much money do you have available. The preferences and the specialty of the amateur photographer are also a decisive criterion. Do you want to give something useful or rather something funny? Depending on this, you have to approach the search differently. 

Whether useful gifts, books, useful gadgets, funny gifts, clothing, backpacks or tripods – here is the right gift for every photographer.
1 This is how you find the perfect gifts for photographers!
Meanwhile, you can find almost everything you can imagine on the World Wide Web. But you can also find suitable gifts at flea markets, in local stores or larger stores specializing in technology. So that the search remains nevertheless simple, we decided to collect with our article already some suggestions for a suitable Mitbringsel. Of course, in our suggestions we already make sure that the reviews of the products are very good and have already been bought often. A first indication that these are high quality and therefore already established products.
Probably the most important question to ask yourself when looking for a gift is the following: How much do I want to spend and what budget is appropriate for the particular gift occasion? Once this important question has been answered, the search will be much easier. Now you can search specifically in the respective price category for a suitable gift for amateur photographers. Almost all online stores now offer the option of using various filters (including price) to adjust the selection of products. In this way, you no longer have to look at the price of each product and only relevant products are suggested, saving you a lot of time and nerves.
Besides the budget, the occasion for the gift plays an important role. There are many different reasons why you can make a photographer happy. Do you simply want to say THANK YOU because your photographer has captured important moments in your life, such as a wedding? Or do you want to give something to a good friend or relative for their birthday?
1.3 Preferences of the photographer
For the optimal gift, it is often useful if you know the person you are giving the gift to personally and can also estimate what they would be happy about. In this case it can help if you think about common adventures or experiences. Did you experience something special together? Remember, look at old photos or videos. You may be able to find exciting ideas this way. Of course, the gift for photographers does not always have to be directly related to photography. Even photographers have other hobbies that they enjoy doing in their free time.
1.4 Speciality of the photography lover
Every photographer has certain preferences as well as strengths and weaknesses when it comes to photography. Some photographers specialize in portrait photography, while others opt for landscape photography. There are also different preferences when it comes to location – indoor in the studio vs. outdoor photography. Of course, you can choose this information for choosing a gift for photography enthusiasts.
Gift certificates still have a negative connotation with many. Sure, you can buy coupons almost anywhere and often they are even already wrapped. Nevertheless, it is a present that is almost always very suitable. Especially professional photographers usually know best which gadget or which book they would like to have. After all, you still know yourself best. In addition, you can also think about how to package the voucher nicely. In our opinion, vouchers are also always worth considering!
2 The best gift ideas for photographers!
2.1 Practical gifts for photography enthusiasts
Photography books
No matter if portrait photographer, sports photographer or landscape photographer – every photographer wants to educate himself in his or other fields and in each field there is in turn a great variety of good books. You may be able to broaden your counterpart's horizons a bit with a suitable book. 
Backpacks & Bags
Every successful adventure begins with the right gear. Fortunately, there are backpacks & bags with which the necessary equipment can be carried comfortably.
Tripods
For different purposes you need different tripods. A suitable tripod belongs to a professional photographer like a tennis ball belongs to a tennis player. 
Gadgets
Photographers love it when they can shoot very special photos with extraordinary gadgets. There are also very special gift ideas for presenting one's own works of art, for example with digital picture frames. 
2.2 Outdoor gifts for photography lovers
Clothing
Whether warm gloves, socks or matching hoodies. For outdoor photographers, clothing should not be an obstacle to beautiful photos. 
Comfort
Sitting comfortably on a camping chair, drinking your espresso to-go and waiting for the sunset. Could a photography day be more beautiful?
2.3 Gadgets for photographers
Drones
Photo drones have long since arrived in everyday photography and assist in taking pictures from spectacular perspectives. 
Analog cameras
Analog cameras can be found almost only on the second hand market. The feeling when the freshly developed film is rolled off the spool and you find out whether the photos have become something at all is but for every photographer a very special. 
Instant cameras
Polaroid cameras are in vogue and make for a great atmosphere, especially at birthdays and weddings. 
Instant printers
Take a photo and immediately admire the result with a small printer. Sounds ingenious? It is!
Funny mugs
Cups in the shape of a lens or simply with funny camera motifs – so the already good breakfast coffee tastes even better.
Funny everyday objects
Camera USB stick, funny T-shirts, money box in the shape of a camera, paper roll holder or camera to build yourself – Here, too, there are thousands of possibilities for a funny gift.
2.5 Personalized presents
Personalized Gifts
Almost every photographer has beer glasses, wine glasses, cutting boards, pens, coffee mugs and a lighter at home. But not everyone has these items personalized with their name on them! Regardless of your profession or hobby, this is an easy way to give everyday items with a personal touch.
3 The photography gift should come from the heart
Just because a gift costs a lot doesn't automatically make it a good gift! Many people often confuse quantity with quality. It's important that when you're looking for gifts, you really put yourself in the shoes of the person you're giving the gift to. In this way, even a free gift can bring great joy.
Extraordinary occasions call for special gifts. The selection of products on the Internet and in stores is enormous. Meanwhile, you can really find (almost) everything you can imagine. Use this fact to find a present that really fits the gift occasion. 
Set your imagination, what the topic of photography gifts, no limits. Anything that makes a personal connection and comes from the heart has a great value for your counterpart. If you are talented in graphics, crafts or technology, you may be able to create a gift yourself or add a personal touch to a purchased product.
4 How much should gifts for photographers cost?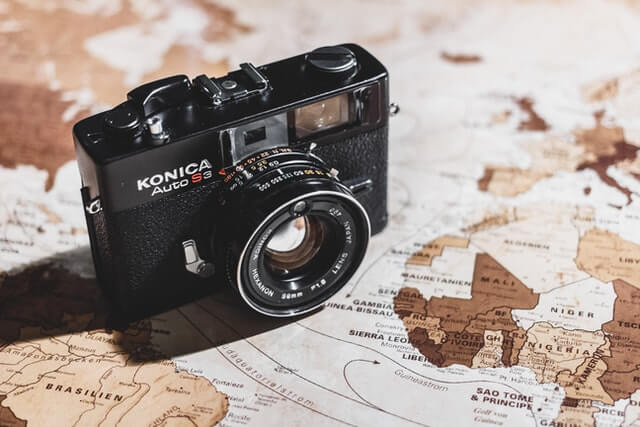 As is often the case in life, there is no one answer that is 100% correct. Of course, it depends on the occasion for which you want to give a gift and the relationship you have with the person you are giving it to. If you simply want to give a professional or hobby photographer a little something, a nice card, a good wine or delicious chocolates are usually enough. For a good friend, of course, you should budget a little more. However, we recommend that you should not primarily focus on the cost, but on the fact that the gift comes from the heart and the person to be given the gift can really use it
It's hard for many people to find the perfect gift for an amateur or professional photographer. However, with our pre-selection and tips on how to find a nice present, we're pretty sure you'll put a smile on your counterpart's face! Think carefully about how much the gift may cost, what your counterpart likes, what interests this person has, what wishes this person may even have already expressed and what useful items this person might need for everyday work. If, despite everything, you really do not know any more, then ask this person, for whom the gift should be, best simply what he would like. Alternatively, you can also talk to friends and acquaintances about it. We wish you success in your search for the perfect photography gift!