Whisky Gifts - The best gifts for whisky lovers!
"Here's to us!" – that's how you toast a special occasion, right? Of course, if you're invited to someone's house to celebrate again soon, you can't forget about their toast. But what if they are a whisky lover? Well, then you'll have to start looking for the right gift for him and you're lucky to have landed here. On this page we present you the best whiskey gifts or gifts for whiskey lovers – have fun!
Liquor is often considered a man's drink. After all, they are tough. What they definitely like to accept are whiskey gifts. If the person you're giving the gift to likes to grill, you'll have to surprise him with the original Jim Beam whiskey wood chips. They give the grilled meat a delicious smoky flavor. Matching: The Jim Beam Barbeque Sauce and the barbecue cutlery.
Your favorite person may already have a minibar at home… but one in the shape of a birdhouse isn't right yet, is it? Because this is a really funny gift idea for a whiskey drinker. Also funny are socks or T-shirts with a fitting alcohol statement on them.
Useful gifts for whiskey drinkers
Of course, not everyone likes to drink their whiskey with a straw. But if the person you're giving the gift to likes to do that, you can give them special straws. Very nice and noble look models made of glass or metal. A bottle cooler is also a very useful gift that a whiskey drinker can do something with.
Your whiskey friend prefers his favorite drink directly from the wooden barrel? No problem at all. You can find wooden barrels from many manufacturers in a wide variety of designs and sizes. Want to make it even more personal? Then simply have the name of your loved one engraved in the barrel.
Anyone who has found his great love in whiskey, can hardly imagine life without this drink. Accordingly, you need to find a gift that suits the whiskey lover. For example, the tin sign that says "I love whisky" looks original. You usually can't go wrong with whisky mustard and chocolate filled with this alcohol.
If you drink whiskey, you need not only the liquor itself, but also the necessary accessories. Does your favorite person not yet have whiskey stones, but is still old-fashioned with ice cubes? Then it's time to give him the former. Whisky stones are available either in real stone material or stainless steel. In addition, a screw man that serves as a whiskey bottle holder is a hot gift tip.
You can not decide for a whiskey bottle? Then go for a whole set as a gift. In the trade, many products are offered in smaller bottles, so that your whiskey friend can taste through several varieties. Perhaps you also give the matching set of glasses.
Personalized whiskey glasses
Anything that is personalized is always well received by the recipient. In various stores you will find many offers in this regard. Super gift ideas for whiskey fans are: a whiskey carafe with engraved name. The classics par excellence are individualized whiskey glasses or whiskey stones.
Gifts for whisky lovers - Everything you should know!
Whisky drinkers are a species of their own. They can talk for hours about their favorite drink. However, if you don't like this type of alcohol at all, you won't be able to join in the social gathering. But you don't have to understand what makes a whisky lover tick – you just have to know what to give them. Guiding you is our job:
Finding a suitable gift for someone who loves whisky? It's easy with just a few clicks on the Internet. If you want, you can also go to your local store or go to the retailer you trust.

Whisky only tastes good if it is of good quality. Everyone who drinks whiskey has a soft spot for the exquisite. Keep this in mind when buying your gift. So stay away from low-quality junk.

Please work through a checklist before you rush into the next store! Ask yourself, "What occasion am I giving the gift for? Do I plan to spend a lot or a little? What age group does my favorite person belong to? What are his preferences? What does he do in his spare time?"

Are you short on ideas? Then turn to a trusted person in your circle of acquaintances. Maybe he, too, is a whiskey drinker and knows his stuff.
1 How to find the right whisky gift
The whisky universe is endlessly large – unfortunately, so is the gift trade. Therefore, it can often be very frustrating if you need forever to find the right thing. On top of that, whisky lovers are very demanding when it comes to their hobby. Fear not, however. The guide we at 365 Presents have put together for you will help you find the perfect whisky gift.
Unfortunately, money makes the world go round. So you can only buy gifts if your piggy bank isn't empty. So before you start looking for a whisky gift, you should first take a look at your financial situation. Only then can you say either "I'll buy something expensive for the whisky lover." or "I won't spend that much money this time." If you like to strike bargains, we advise you to compare prices on the Internet or take advantage of discount promotions in stores. But always remember that quality is the main criterion of any gift.
What kind of person is the recipient? Is he more into the extravagant and glamorous? Or is he a plain and simple personality? Is he a party animal and likes to be out and about or does he prefer quiet evenings in convivial company? What other hobbies does your favorite person have apart from drinking whisky? You realize it yourself, don't you? There are really a lot of questions you should clarify before you go on with your gift search.
Yes, you can't drink whiskey until you're 18 or older. Still, when it comes to gifts, there are big differences when it comes to the age in question. After all, it may well be that a young adult has completely different ideas in his head than a 60-year-old. That's why you must always ask yourself the following question: "How old is / will the whisky connoisseur I would like to give as a gift?"
2 The best whisky gift ideas
Christmas miracle
Especially in the cold season, people like to sit comfortably together with a good glass of whiskey. Fitting for the Christmas season, there are also the right gifts. Anyone who loves whiskey will be delighted with an Advent calendar. With it, you can test yourself for 24 days through the most diverse tastes. Christmas tree decorations in the form of whisky bottles are also available on the market.
Whisky spices
Theoretically, you could also refine your whisky by adding various spices to the glass. However, this would distort or even destroy the aroma of the alcoholic beverage. But you can still please a whisky lover with a certain spice: Whisky pepper. This is pepper that has been soaked in whisky for weeks and then gently dried. The whiskey flavors meld with those of the pepper. In the end, you are left with a spice with a smoky, smooth aroma that enhances any dish. 
Whisky books
Someone who is particularly interested in whisky certainly won't say "No!" to books that deal with the subject. Why not buy works such as "The Great Whisky Book"; "101 Whiskies"; "Whisky: History, Production, Brands"; or "Workshop Whisky: Discover, Taste, Enjoy". Of course, though, there are plenty of other books that your favorite person might enjoy. 
Whisky games
Of course, a get-together in convivial company also includes joint games. After all, the evening should be fun and not boring. For all whisky connoisseurs out there, the game "Whisky Quiz: 100 Questions and Answers" is just the thing. Whisky poker" also ensures a good mood. You shouldn't get drunk on whisky, but drinking games can be fun from time to time. What should not be missing at any party is "Hackedicht. The only true drinking and party game". For inspiration, you can also check out "The Book of Drinking Games: 69 Ingenious Ways to Get Really Drunk."
Whisky seminar
Everyone loves experiential gifts. What could be more fitting for someone who loves whisky than a ticket to a whisky seminar? Here you not only learn the great art of whisky tasting, but also learn how the beloved drink is made. Feel free to check with the providers when the next seminar dates are free. Maybe your favorite person would also be happy to have you along for the ride. 
Special varieties
The person you want to give the gift to has already tasted every conceivable whisky? We don't think so – after all, there are countless different varieties. Your task is therefore to find a distillate that he does not yet know. Sometimes there are even whiskey auctions where you can get hold of a special variety with a bit of luck.
3 The gift should come from the heart!
Good whiskies are made with a lot of time and especially love. Accordingly, you must also make sure that your gift for the whiskey drinker comes from the heart. The principle of appreciation is the be-all and end-all here. We do not recommend buying anything just to have bought it. Think carefully about what you can do to please your favorite person. Make your counterpart feel special.
4 How much should gifts for whisky lovers cost?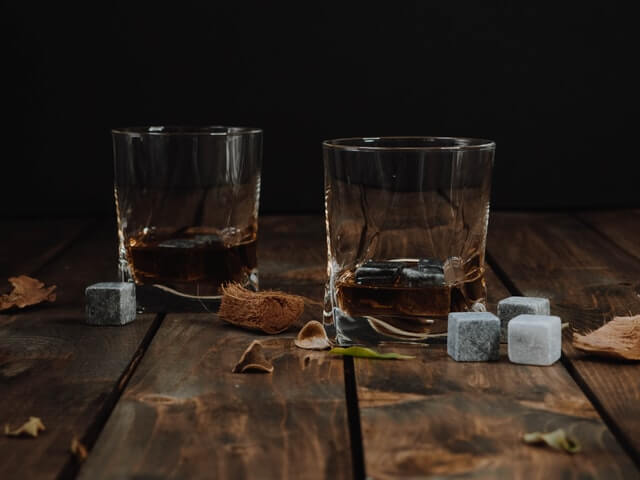 Whiskies can cost a fortune in some cases. Gifts for whisky fans can also be expensive. Can, but do not have to. Often you can find products for less money. They are ideal if you just want to say "Thank you for XY!" to a loved one. However, you should not skimp when a special occasion is coming up. For birthdays, Christmas, Easter or weddings, everyone is happy to receive a gift that has a slightly higher value.
"Veni, Vidi, Whisky." – That's what you can say when you have the best gift for a whisky lover in your hands. How soon that will be depends on you. The more ideas you have, the easier the search will be. But if you have a choice, you are also spoiled for choice. Picking out a gift can be stressful. But with our great advice, it shouldn't be a problem.